Your Home Buying Road Map
Posted by Wesley Willoughby on Wednesday, September 16, 2020 at 12:16 PM
By Wesley Willoughby / September 16, 2020
Comment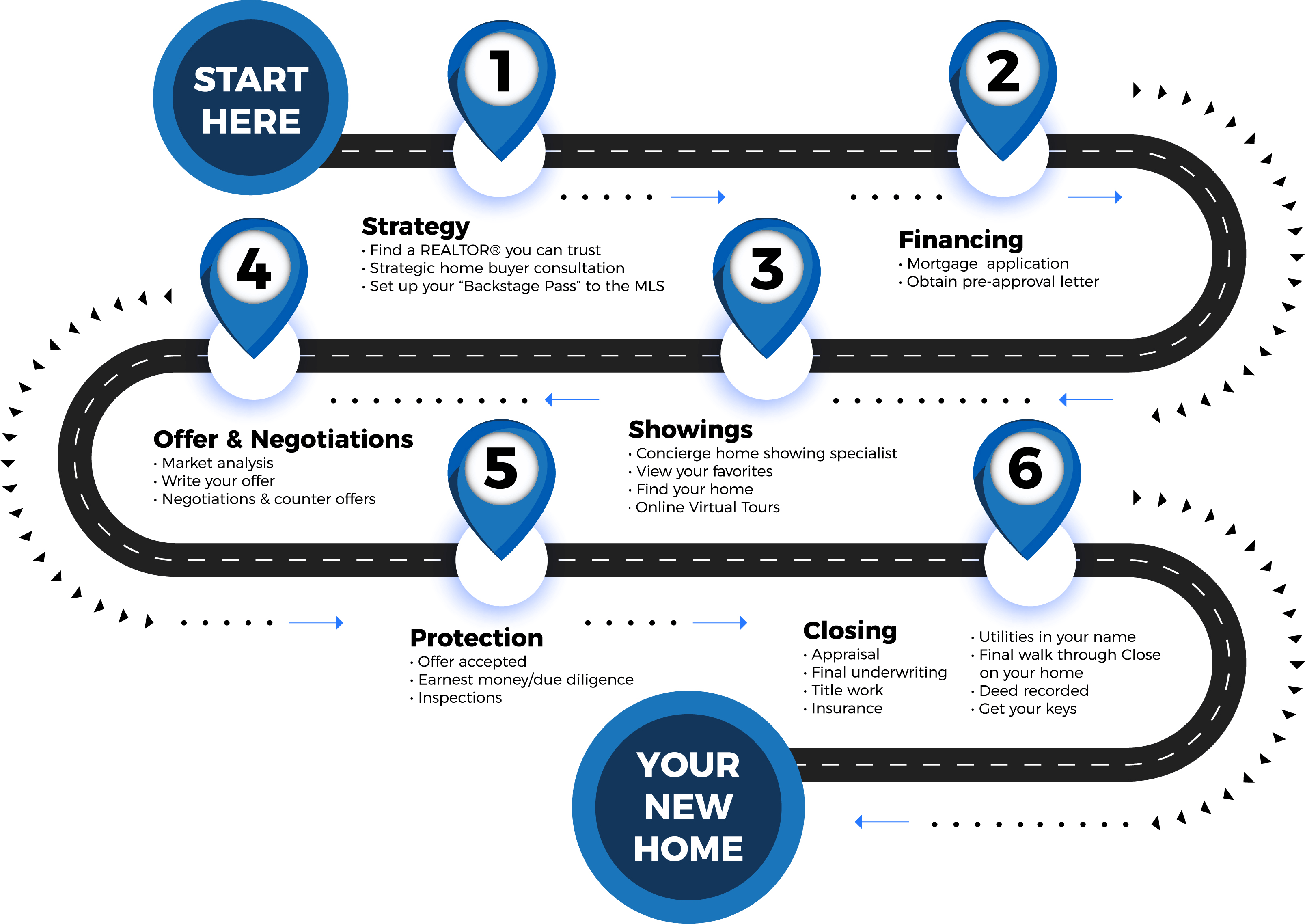 Buying a home is one of the best purchases you will ever make. But if you are buying a home for the first time, you may have questions about the timeline and the process. Who wouldn't? There are a lot of steps to get to the final destination of home ownership! We have created a detailed guide to home buying to help you navigate the path to owning your first home.
*This is a road map of the typical home buyer process.
STEP 1 : STRATEGY
The first step in your home buying journey should be choosing a licensed Realtor to work with. You may have a friend or family member that you know and trust who is a real estate agent... Great! Just be sure the person you choose is an expert in the market! If you need assistance choosing an agent, contact The Music City Group and we will connect you with someone in your community.
Once you choose a Realtor, it is likely you will sign a document called a Buyer's Representation Agreement stating you and your Realtor will work together in your home buying process. Realtors are the experts of the industry so trust that they will be there every step of the way and make the transaction as easy as possible! Your agent will schedule a consultation with you to discuss the type of home you are looking for including style, price point, and location. Real estate agents use a tool called the MLS to set up home searches for their clients. The MLS provides information on all homes for sale such as the year it was built, number of bedrooms and bathrooms, room dimensions, acreage and nearly anything else you would need to know about a home. You may see other real estate websites that have similar features but beware as some may not be up to date with the MLS. Your Realtor has access to the tools and systems to ensure you see every available home that meets your criteria.
Click here to start a new home search in Nashville!
STEP 2 : FINANCING
Before you start viewing homes, you will need to obtain a mortgage pre-approval letter from a trusted local lender. Don't worry, your agent knows several great lenders to recommend. This pre-approval letter will show how much money you qualify to spend on a home based on your income, debt, and credit score. You will need to provide W2s, pay stubs, and bank statements to your lender. (The only person who will see this private information is your lender. Your agent will only need the final dollar amount you have been approved for in order to search in the appropriate price range for you.) Knowing what you can afford is an important factor in your home buying experience.
Click here to begin the pre-approval process!
STEP 3 : SHOWINGS
The fun begins here! Your agent will begin to send you homes that match the criteria you have discussed. After viewing the listings, you can tell your Realtor which homes you would like to see in person. Your agent will then set up a showing with the listing agent (the Realtor who represents the seller) and off you go! You also have the option to do a virtual home tour online if you're looking to move to a new city. You may view one home, or you could look at twenty before finding the home that suits you best!
STEP 4 : OFFER AND NEGOTIATIONS
Once you find the perfect home, your Realtor will start a market analysis by pulling information on comparable homes (aka "comps") in the area. Based on this analysis, you will work together to write an offer on the home. Your offer will include a price, closing date, and any other special stipulations you would like to include.
Your agent will then send the offer to the listing agent to review with the sellers. They have the option to accept, decline, or counter your offer. If they counter, this begins the negotiating process. The sellers could send a counter offer with new terms, different than what was in your original offer. You and your Realtor will discuss these terms and you will also have the option to accept, decline, or counter back. This goes on until you both reach an agreement. Once all parties have accepted the terms, you are under contract!

Find additional information on making an offer here.
STEP 5 : PROTECTION
Now we are in escrow! The home is effectively held for you until closing. In the meantime, you will need to pay your earnest or trust money to the title company provided within a few days of signing the contract. The amount of earnest money is usually 1%-3% of your purchase price.
Your agent will assist in scheduling inspections for your new home. The home inspector will evaluate the interior and exterior of the structure, check the floors, walls, and ceilings for any defects, check the basement or foundation for any water leakage, and inspect the heating and cooling systems. There WILL be something wrong with the house and it is the inspectors job to find it. Don't freak out! Once you receive the inspection reports, you have the opportunity to negotiate repairs into the contract, as well.
Before closing, your lender will also order an appraisal, which is an unbiased professional opinion of the value of a home. A licensed appraiser creates a report based on a visual inspection, using recent sales of similar properties and current market trends. An appraisal is required whenever a mortgage is involved in buying a property.
STEP 6: CLOSING
Once the appraisal is approved, the lender will move forward with funding your loan so that you may transfer those funds to the title company on closing day. The title company will perform a title search to ensure there are no liens and you receive a clear title to your new home.
You will order a homeowner's insurance policy and set up the utilities in your name. You will also have an opportunity to walk through the home a few days prior to closing to ensure all repairs were completed. Garage door openers, sets of keys, and transfer of ownership will also be coordinated in the final days before closing.
Now, it's closing day! You and your Realtor will meet at the title company to review and sign all title and deed documents. Then you get the keys to your new home! Congratulations, you are now a homeowner!