Living In Nashville, TN: What Is It Really Like?
Posted by Wesley Willoughby on Friday, January 7, 2022 at 9:44 PM
By Wesley Willoughby / January 7, 2022
Comment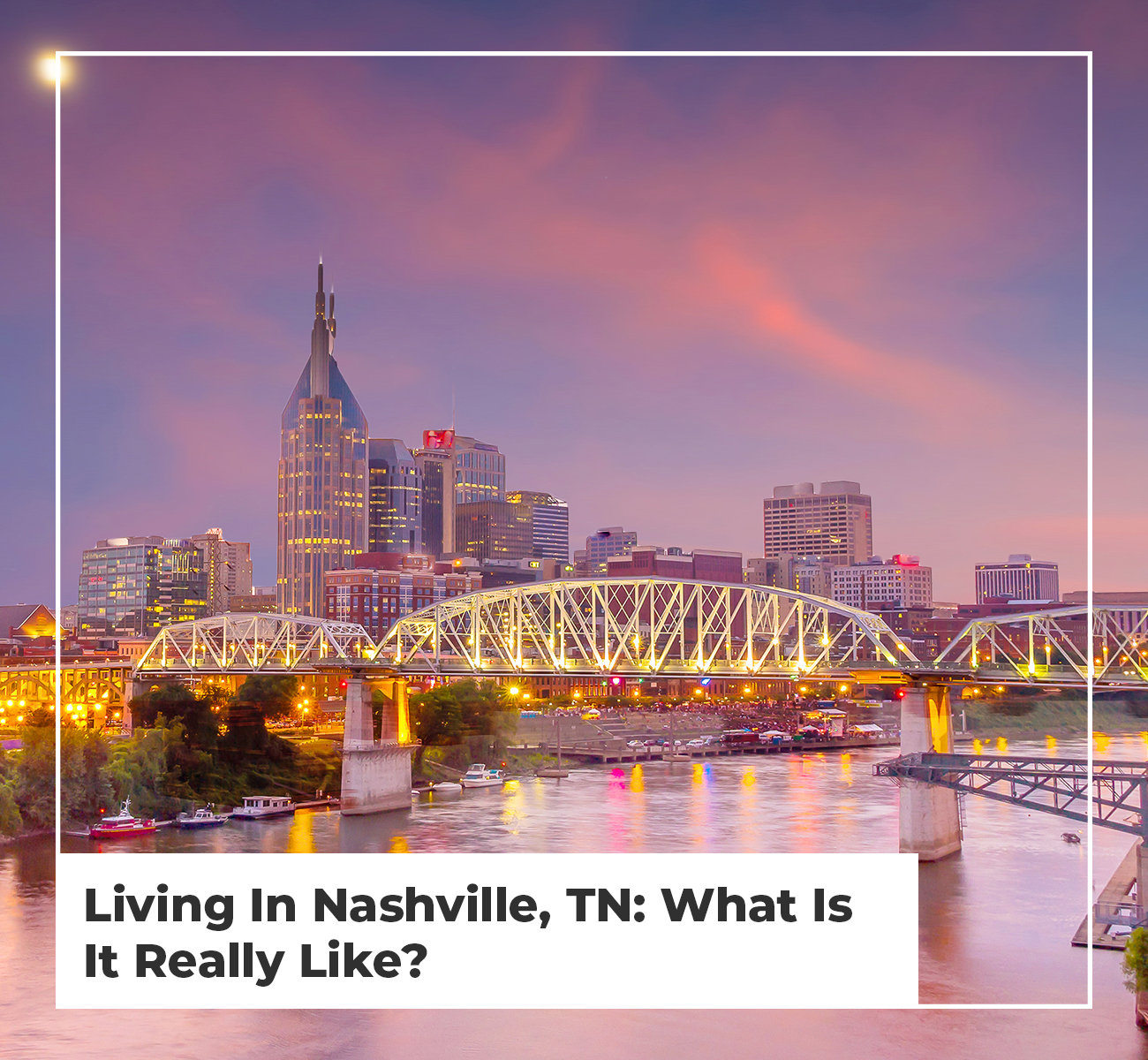 Close your eyes and imagine bright lights, country music, and a vibrant community and that's what it's like living in Nashville. Nashville, Tennessee, is one of the most populated cities in the United States. As a result, Nashville is a major music, culture, entertainment and recreation hub. It's most known for its deep-running country roots, but other genres are most welcome there as well. It's a music city bursting with entertainment and opportunity at every corner.
Not only is Nashville, Tennessee a fascinating place to live because of all the entertainment venues, but it's also a place that values and supports education. There are many beautiful places of worship, excellent access to healthcare, and many culture-rich experiences. Nashville, TN, has a diverse food scene, many attractions, celebrations, and community events. Nashville, TN, also has a booming job market with opportunities in sectors like tourism, business, tech, and more.
If you hear the name Nashville, you likely assume excitement, right? It is a vibrant, bubbly, musical city with a multitude of events and performances on a daily basis. However, other things are important to note about what it's really like living in Nashville or moving to Nashville.
View All Homes For Sale in Nashville, TN >>>
The Festivals and Events
If you're considering whether Nashville is right for you, then make sure you know about all the festivals and events that the city hosts. Nashville is a city that always has something going on. The year is flooded with events, festivals, performances, and more to celebrate and gather together. Some festivals and events draw huge crowds, and people visit just to be there.
Exciting Annual Events In Nashville TN
Nashville Boat Show
Nashville Auto Fest
The Antiques and Garden Show of Nashville
Nashville Wine Auction Pairings
July 4th Riverfront Fireworks Show
East Nashville Tomato Fest
Nashville Fashion Week

Nashville hosts many events throughout the year. This list is a small handful. Along with these annual events, the city also hosts performances and concerts. There are many live performances throughout the city every month. There are also many performances at the Grand Ole Opry House, Ryman Auditorium, Bridgstone Arena, and Symphony Center. Music is a HUGE deal in Nashville, and the city really celebrates it.
Get Outside
If you live in Nashville, TN, then be prepared to get outside. Though there are incredible indoor entertainment establishments, there are also amazing adventures to enjoy outdoors. Nashville has beautiful scenery to see, so if you're living there, get some good walking shoes and get exploring. Below are some popular outdoor adventures to enjoy while living in Nashville, TN.
The Nashville Zoo
At the Nashville Zoo, you'll view a ton of animals. In addition, there are well-maintained, shady grass pathways guiding you and zipline adventures to enjoy. The Nashville Zoo is an informative place to spend time. It has many places of learning all throughout the park.
Adventure Park At Nashville
Adventure Park at Nashville features an exciting large ropes course to work through. In addition, there is a tree to tree climbing and exhilarating fun to be had for all ages and all fitness levels.
Cumberland Caverns
An exciting walking tour that takes you on a trip into a cave.
Nashville Shores
Nashville Shores is a massive waterpark. It has a huge pool, giant wave pool, lazy river, waterslides, and much more.



Education in Nashville
Nashville, TN, has an incredible array of options for education. They meet the needs of all ages of students and provide exceptional opportunities for athletics, art, and business.
A few of the top school districts in and around Nashville
When you're looking for a great school, neighborhood and community are something to keep in mind.
A few great communities to live in and around Nashville, TN
The Breweries
Nashville, TN, is an area perfect for beer-lovers. Visiting a brewery is exciting, and whether you're a fan of craft beer or not, there's an appreciation to be had for the process. Many breweries have guided tours teaching about the company's history and craft. The city has many well-established craft breweries to explore and taste.
Excellent Craft Breweries in Nashville, TN
Yazoo Brewing Company
East Nashville Beer Works
Honky Tonk Brewing Company
Barrique Brewing and Blending

Things To Do In Nashville TN
Dubbed as "Music City, "Nashville, TN, offers an extensive amount of musical entertainment opportunities. However, with this, they offer fantastic culture, art, food, and sports opportunities. Nashville has several museums exploring history, artifacts, and life in the past. Living in Nashville, TN gives you a front row to the excitement the city has to offer. It is abundant with parks, green spaces, cafes, diners, shopping plazas, and much more. There are many things to do both indoors and outdoors.
Belle Meade Historic Site and Winery
This small museum takes a look at life in Tennessee in the 1800s. It's a great place to visit to learn and experience. The guides along the path are in costume and play a role.
The Johnny Cash Museum
The Johnny Cash Museum is an extraordinary place to visit. It features many handwritten notes from the legend himself with many pieces of memorabilia.
Shelby Bottoms Nature Center and Greenway
This outdoor thing to do is located on the Cumberland River. It is a beautiful green space with a ton of outdoor recreation opportunities.
Cheekwood Estate and Gardens
Cheekwood Estate and Gardens feature impressive flower displays, greenhouses, sculptures, and a beautiful mansion to explore.
Transportation in Nashville, TN
Nashville, TN, is not lacking in accessible transportation, that's for sure! The city has many routes and modes of transportation. As a result, it's easy to travel throughout the city. Many areas are very walker-friendly, but if you need some quicker transportation, here are a few options.
Taxi
Rideshare
Downtown bus service
Nashville Star train
Car rental
Shuttles
The superior transportation makes it more feasible to enjoy Nashville, TN. The bus has affordable, inexpensive fairs, and the city has many taxi companies to choose from. The city also has many well-maintained walking and cycling paths to take advantage of.
The Nightlife
The nightlife in Nashville, TN, is worth making a move for! There is live music somewhere every night of the week. You can find performances from local artists, well-known brands, and rising stars. There is every kind of place in Nashville. Dance clubs, sports bars, dinner theaters, intimate lounges, and more. Nashville, TN, has many exciting places to visit. So grab your dancing shoes, and get ready for swinging, honky-tonk fun when the sun goes down!

Employment Opportunities
Nashville, TN, has many exciting entrepreneurial and employment opportunities. If you're moving to Nashville, TN, you should know the job market. There are many opportunities in the healthcare sector and a strong small business sector. In addition, Music City, Nashville, TN, has a vibrant tourism scene with excellent hotels and restaurants. There are many employment opportunities in these industries as well.
Is Nashville right for you?
If you enjoy the excitement, music, glitz, and glam, then yes. But, Nashville has so much to offer that even if you're looking for solitude, the city has it. It is home to many festivals and celebrations. There is excellent dining, soft, quiet lounges, and country-dancing clubs. In addition, Nashville has excellent schools and many fun things to do. Living in Nashville, TN, is nothing short of an adventure!
The Music City Group of Benchmark Realty represents the region's finest properties with exceptional skill using the most innovative technologies currently available. Our years of full-time experience have given us a clear understanding of the mindset of home buyers and sellers and a thorough understanding of the regional marketplace.