BACK TO SCHOOL WITH RISING HOME SALE NUMBERS
Posted by Wesley Willoughby on Monday, August 12, 2019 at 1:27 PM
By Wesley Willoughby / August 12, 2019
Comment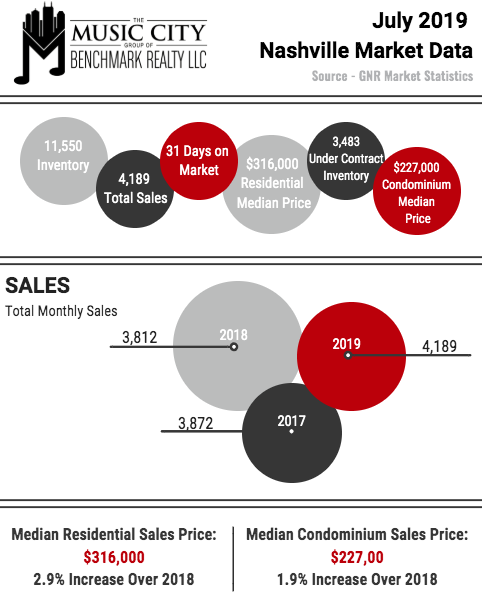 NASHVILLE, Tenn. (August 7, 2019) – There were 4,189 home closings reported for the month of July according to figures provided by Greater Nashville REALTORS®. This figure is up 9.9 percent from the 3,812 closings reported for the same period last year.
"We are excited to see that home sales continue to increase across the region," said Andrew Terrell, Greater Nashville REALTORS® president. "According to the National Association of Realtors, 65 percent of consumers nationwide say it is an excellent time to buy a home as stated in their HOME Survey Housing Opportunities and Market Experience released in June 2019."
A comparison of sales by category for July is:

There were 3,483 sales pending at the end of July, compared to 3,347 pending sales at this time last year. The average number of days on the market for a single-family home was 31 days.
The median price for a residential single-family home was $316,000 and for a condominium it was $227,000. This compares with last year's median residential and condominium prices of $307,000 and $222,750 respectively.
Inventory at the end of July was 11,550, down from 11,671 in July 2018.
The current inventory of properties by category, compared to last year, is:

"Sales data for July showed a slight decrease in inventory across the region, but with mortgage rates hitting a three-year low, it comes as no surprise. Homes are selling fast, and the best way to navigate our vibrate local housing market is with a Realtor. More than an app, a Realtor knows the market, knows how to negotiate and adheres to a strict code of ethics, thus ensuring, you the consumer is taken care of," added Terrell.
Source:www.greaternashvillerealtors.org