Amazon Comes to Nashville!
Posted by Wesley Willoughby on Thursday, November 15, 2018 at 10:46 AM
By Wesley Willoughby / November 15, 2018
Comment
Amazon's announcement that it will bring a new operations hub to Nashville may have been a consolation prize in the national sweepstakes for the tech giant's coveted "HQ2," but it remains the single largest jobs announcement in Tennessee's history.
And, city leaders said Tuesday, the $230 million investment, which will bring as many as 5,000 jobs, is the right fit for a city already growing by roughly 100 people a day.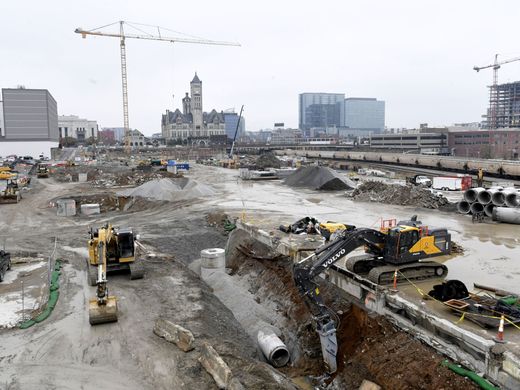 "The 5,000 is a good fit in lots of ways, not just in size," Nashville Area Chamber of Commerce CEO Ralph Schulz said. "It is something we can absorb more easily, quickly."
The new Amazon center will be located at Nashville Yards, a major commercial site under construction between Church Street and Broadway near Interstate 40. The company will begin hiring in 2019.
"These are great-paying jobs," Gov. Bill Haslam said. "This is a huge deal for the state of Tennessee and our partners in the city of Nashville."
The announcement falls short of Nashville's initial pursuit to become Amazon's second headquarters, a split designation awarded to northern Virginia and New York City. But the third-place prize was heralded by city and state officials who saw it as appropriate for Nashville's infrastructure and talent base.
A second headquarters was expected to yield 50,000 jobs. While that prospect was welcomed by city and business officials, some local leaders questioned how Nashville would confront such a large impact on affordable housing and traffic, already posing significant challenges to the city.
"If you look at all of downtown Nashville, currently there are 70,000 jobs. It gives you an idea of the scale of the project," Haslam said. "We've realized, and Nashville and Amazon realized, to do something that big, as much as Nashville has grown, would still be a challenge to infrastructure and talent."
Haslam declined to say if he preferred the scaled-down project to an HQ2 selection.
"It would have been a challenge over time," Schulz added.
Metro Councilman Freddie O'Connell, whose district is home to Nashville Yards, said gaining 5,000 corporate jobs despite missing out on the larger HQ2 is a happy middle ground for Nashville. The city has been grappling with the side effects of its rapid growth in recent years, with issues like public transportation, affordable housing and quality of life for urban residents rising to the forefront.
"Good-paying jobs added to the Nashville economy are always a good thing," O'Connell said. "It demonstrates that Nashville remains competitive as a city and a market for talent. They would not be announcing 5,000 jobs here if they didn't think they could find the talent right here in Nashville, or attract the talent to Nashville in relatively short order."
Amazon, based in Seattle, announced in September 2017 it would be seeking a second headquarters location and named Nashville as a top 20 finalist four months later, narrowing down a pool of 238 applicants. The city's ability to attract new residents was among its strong points, said Amazon Senior Vice President Jay Carney.
"We realized that it would make a lot of sense for us to have an Eastern United States regional hub for our operations business, and Nashville just really impressed us in the HQ2 process," Carney said. "It's a city pointing toward the future. It made itself very appealing for investment. It's a place where, if people don't already live there, they are excited about moving there. That's always an important issue for us."
The new site, dubbed the Operations Center of Excellence, will be responsible for the company's customer fulfillment, transportation, supply chain and other similar activities. The Nashville jobs will include management and tech-focused positions, including software developers, with earnings expected to average $150,000, Carney said. He said he expected Amazon to recruit locally and from outside the area.
Nashville Yards is a $1 billion development located where the old LifeWay building previously stood. It includes plans for a $44 million performance venue, a movie theater, a Hyatt Regency hotel and a 1.3-acre park.